"After all we did for Great Britain, selling all that curdoroy and making it swing, and they just gave us this bloody old leather medal with a wooden string through it." - About the MBE's the Beatles were given in 1965. ;)
Q: "What do you call that hairstyle?"
George: "Arthur".
"...Life flows on within you and without you..."
("Within You, Without You", George Harrison)

"...It doesn't really matter whether you're a king or a Beatle: it's what is inside that counts."
- George
That Magic Feeling's George Harrison photo gallery
Reply to a fan letter by George, 1963 (very sweet!)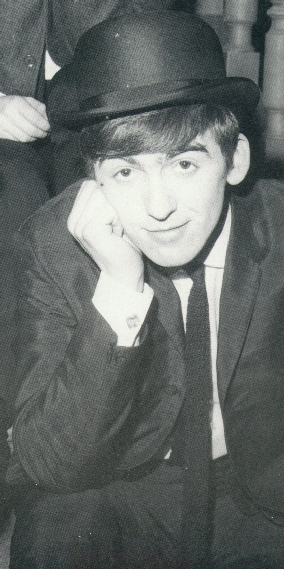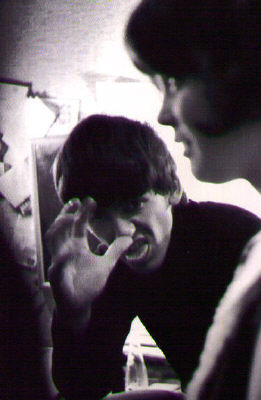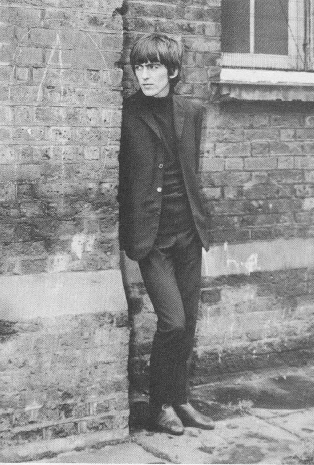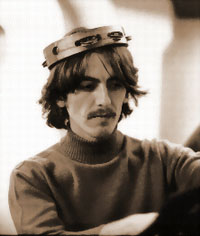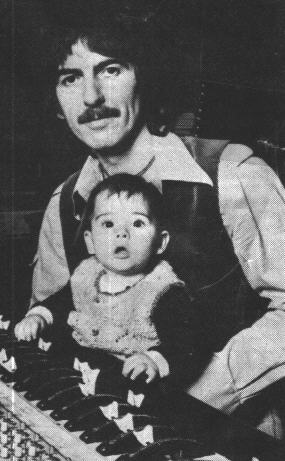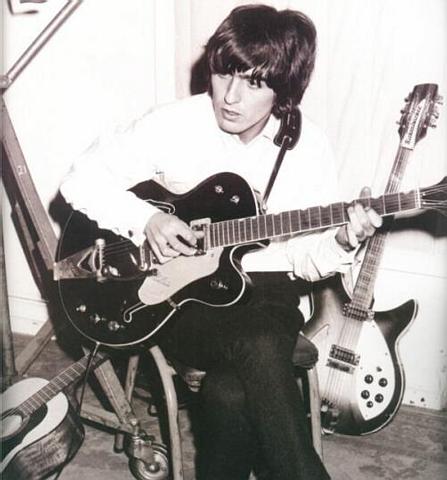 It's been over one year since the world heard the news that George had passed away. It seems like yesterday to me. Bear with me here, I'm not the best at expressing my emotions...
It was Friday, November 30, 2001, when I read the news online as I went to check my e-mail account. I thought it couldn't possibly be true. Then, some minutes later, I walked into my history lesson, sat down and waited for the start of the class, all the while thinking, "It can't be true". My teacher came in and said to the whole class, "Do you know who died yesterday? George Harrison, one of the Beatles." One of the guys in the class replied, "Now there are only two of them left" - something which echoed in my mind for the remainder of the eighty minute lesson. The whole rest of the day took place in something of a fog - I really have no idea how I made it through the class (although I do remember just sitting there, not saying a single word) or how I got home. I think I was in a state of shock and I just felt heartbroken.
It took until the following day for it to sink in. This may seem odd to most; this was a person I never met. Nevertheless, December 1 was a long, sad day for me, which I spent crying in front of the televison and the computer. The feeling of being heartbroken just grew stronger and every time I saw footage or a picture of George, I was on the verge of tears again. The Beatles as a group are such a part of my life; they are the Fab Four, the band that's so big you don't want to believe that any of them have died. The band as a whole, and each individual member, has given so many people joy, laughter, happiness, thoughtfulness and sadness. They were there to help me through my teen years, when life seemed awkward, and they continue to be an ever-present part of my new adult life, in which life has not become any less strange. It is this personal connection that makes it so hard to lose any of them.
When John was killed in 1980, I wasn't even born yet; I will never know what it was like to hear the news at the time. But on that November day in 2001, the news about George certainly hit me.
I still get times when I'm devastated. When I saw Paul in concert on May 18, 2003, he got to the George tribute of playing "Something" and the screens showing pictures of George - and I burst into tears and spent the whole song sobbing. The radio will be on and unexpectedly, a song like "Give Me Love (Give Me Peace On Earth)" will come on and I'll pause what I'm doing to listen.
It's hard to think that George is no longer here. He continues to touch me (and I'm sure I'm not the only one) with his music, wit and wisdom. He may have been stereotyped by the press as the "Quiet One", but he seemed to say more with few words than most others do with many. More than ever, songs such as "Here Comes the Sun" are ones that comfort, especially in the world as it is currently.
I am so glad that George shared his music and his talent with the world. No matter what, that will remain. As long as he is remembered, and his music is listened to, it will not disappear.
George, thank you. We miss you and we'll always love you. I'll always have a space for you in my heart.

- Andrea
----
The world was very fortunate to have had George Harrison in it. We, as fans, cannot experience the loss as painfully as his family and friends, of coruse - but as painfully as is possible if one has never met the person lost. And it was, and is, painful.

It has always felt as though he, and his three Beatle colleagues, have been a part of one's family for years; and, indeed, they have also always seemed like friends. His music, and, in turn, his words of wisdom, are everpresent, no matter what the occasion. The paces of life may change, and, therefore, the quicksilver quality of life means that, sometimes, Beatles and solo Beatles music may fade into the background - but whenever life slows a bit, allowing for some relaxation, the sense of "well-being", as Derek Taylor once wrote, and, yes, comfort,is inherent. It's due to the personalities of the innovators, and to the timeless music and those familiar voices.

George's voice has always gone straight to my heart. Not to mention his guitar skills... those incredible melodies... the profound lyrics... the hilarious humor... and the entire complex individual.

Though each of his solo albums has a special meaning to me, it is "Brainwashed" which has a significant impact on me, still. From the moment I bought it - one its day of release, naturally - I have never grown tired of listening to it. It is one of those rare albums which does not contain one single throw-away track. The nature of the lyrics is something that I hope to always be able to remember, in all I do. For each track contains life's lessons.

Without getting completely sappy, I will just say that, even three years later, I, for one, still miss George. And I always will. I could go on and on writing about how he's impacted my life, and how big of a place in my heart he and John, Paul and Ringo have (that's a given, though), but that will do for today.
However, I will also always be grateful that he existed, and that he shared so much of his life and his talent. Thank Heaven for George.

- Andrea R., November 27th, 2004
----
Let these quotes speak for themselves...
***
George Martin: Tell me if there's anything you don't like.
George: Well, I don't like your tie for a start.
**
I liked the way we got our faces to be longer on the album cover. We lost the "little innocents" tag, the naivety, and 'Rubber Soul' was the first one where we were fully-fledged potheads.
**
The only place we ever got any peace was when we got in the suite and locked ourselves in the bathroom. The bathroom was about the only place you could have any peace.
**
Rap music is just computerized crap. I listen to "Top of the Pops" and after three songs I feel like killing someone.
- in 1989
**
We were in their [The Ted Taylor Four's] dressing room and found some of their stage makeup called "pancake". We thought we'd better put some on because the lights were bright and we supposed that's what people did on stage. So we put it on and we looked like outspan oranges.
**
Even now, Paul's still nine months older than me.
**
I'd rather be a musician than a rockstar.
**
While everybody else was going mad, we were actually the sanest people in the whole thing.
**
In our society we tend, in a subtle way, to number ourselves and each other, and the government does so, too. "What's your social security number?" is one of the first things they ask you in America.
**
We've just come across that ["If You've Got Trouble"] and it's the most weird song. I've no recollections of ever recording it. It's got stupid words and it's the naffest song. No wonder it didn't make it onto anything.
**
...[W]hy I wrote some songs that were trying to say: "Hey, you can all experience this..." But then you realize you can take the horse to the water, but you can't make him drink... Sometimes people took the songs the wrong way, as if I was trying to preach, but I wasn't.
**
Everybody who comes out of Liverpool thinks they're a comedian.
**
For every human there is a quest to find the answer to why am I here, who am I, where did I come from, where am I going?
**
The thing that pleases me the most about it [the success of "1"] is that young people like it. I think the popular music has gone truly weird. It's either cutesy-wutesy or it's hard, nasty stuff. It's good that this has life again with the youth.
**
I've no idea who thought of Apple first. It was a bad idea, whoever thought of it!
**
Q: What is the most popular misconception about you that people have?
George: That I am serious. Pisces are depicted as two fish going in opposite directions. Many people do not see my humorous side.
**
A few real fan letter excerpts, for a giggle:
Dear George,
I love to hear you say "rubbish". I don't know why.

~
Dear George,
How does it feel to be the perfect man?
**
The first time I heard "Love Me Do" on the radio, I went shivery all over - I couldn't believe it!
**
Apple was getting crazy - Ringo wanted it [the Apple logo] blue, John wanted it white, Paul wanted it green and I wanted it orange.
**
It's not exactly an EPK but it is a threat to world order as we know it.
**
"If you're memory serves you well, we're going to meet again." I believe that.
**
In response to his height, over the years:
1963: 5' 11"
1974: 5' 9"
2000: 3' 7"
**
In the end, this world will go under because of the stupidity of people.
**
[About being greeted by 300,000 people in Adelaide, Australia] Everyone was saying, "Oh, there's more people here than came to see the Queen." Well, I should think so, she didn't have any hit records.
**
The LP cover [of "Please Please Me"] was photographed with us looking over the balcony of the EMI offices in Manchester Square. It was by Angus McBean - ad I've still got the suit I wore then. (I wore it in 1990 to a party. It was a Fifties party but I cheated and wore a Sixties suit. It looked as if it fitted, but I had to have the trousers open at the top.)
**
I've often wondered how Murray ["the K"] could barge into the room and hang out with us for the entire trip. It's funny, really, I never quite understood how he did that.
**
The world is a very serious and, at times, very sad place - but at other times it is all such a joke.
**
I'd like to think that all the old Beatle fans have grown up and they've got married and they've all got kids and they're all more responsible, but they still have a space in their hearts for us.