Travel the world with the Beatles? ;)
Sounds like it would have been fun... Unfortunately, this section might be more crazy than fun, but...
Well, this will feature, shall we say, travel destinations, brought to you via The Beatles...
---
Episode 1: Around the world (nearly) in a few moments!
Remember to take along your visitors guide, as Paul has done, just in case you need to consult the itinerary.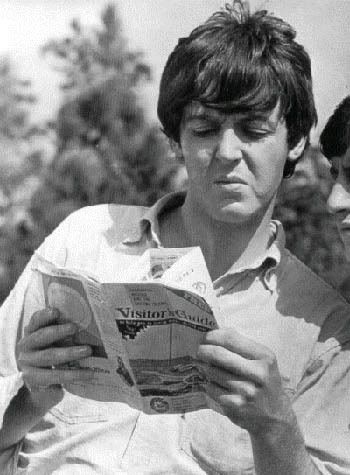 Our first part of the journey takes us, via train, through Germany.
All in all, it's quite a nice country, really, but you don't get to see too much of it if you happen to be a Beatle on tour. Mostly, you get stuck in some far-off hotels, since the police fear riots from thousands of fans. It's a shame, really, especially in Hamburg, which is a beautiful city!
But what can you do.
If you want more information about the Hamburg-era Beatles, you can always have a look at the "Beatles in Hamburg" section here for a totally Beatley take on the city.
--
Next on the itinerary is Austria, or rather, more specifially, the Austrian Alps. What can you do there? Well, you can attempt skiing, in which case I recommend you view the "Ticket To Ride" scenes of the Beatles' movie "Help!" for a look at, frankly, how not to ski.
Or, you can pass the time playing cards in a hotel restaurant.
Of course, when in... well, Obertauern, do as the Austrians do and have some beer:
--
Time to move on to - Asia. Quite a diverse continent, with our particular focus being on India, of course. However, this will have to be another separate episode, for its significance.
For now, let's stop by Japan. Now, you'll be spending a lot of time in your hotel, when you don't happen to be organized, minute by minute, to leave and, as a Beatle, perform a concert.
So while you're in Japan, why not try out some of the more traditional fashion styles and accessories?
Accessories sold seperately, person not included - sorry.
--
Next up, the South Sea islands - to be exact, Tahiti. Here's something that you might be interested in viewing during your sojourn there:
Hopefully, I didn't promise too much, regarding the above image. ;)
Well, thank you for browsing through this episode... it was a bit short, but more will follow in due course!
(Again, don't let it be said that I didn't warn you with regard to the craziness. ;))
* * *
So... you'd like to follow in the footsteps of The Beatles on your travels? Or are you curious to see more of the world The Beatles often only saw from a hotel window? Feel like hitting the beach, soaking up some culture or immersing yourself in another frame of mind?
Whatever the case may be, here are some travel destinations you might consider for your next vacation if you haven't decided where to head yet!
A few of the many places visited by John, Paul, George and Ringo during the Sixties...
- Tenerife, Canary Islands
- Virgin Islands
- Papeete and Polynesia
- Bahamas
- St. Moritz
- Tunisia
- Malaga
- Barbados
- Klosters/Switzerland
- Tobago
- Mumbai; Kashmir; Rishikesh/India
- Kenya
- Greece
- Los Angeles; San Francisco/California
- Morocco
- Sardinia
- Scotland
- New York City
- Paris
- Amsterdam
- Vienna
Enjoy your trip! ;)