You're probably thinking...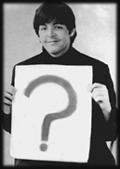 ...and rightly so.

The concept (that sounds far too intelligent for this page) - the idea - behind this is: have you had those moments when you're looking at a Beatles picture and you think, "I wish I were that object/person/etc."?
Okay... maybe I'm the only one. And granted, I came up with this idea just a few minutes ago after drinking a lot of coffee.
At any rate, here are few pictures (and more will be added in due course) of The Beatles and objects or people where you may think, "I wish I were that...".
It's silly, it's pointless... but it's an excuse to look at more Beatley photos. So, onward and enjoy.
Oh, very British there. To be a teacup... ;)
Hmmm... I think this photo has been flipped (found it on the internet) - apologies!

First of all, this picture was found at the letitbeatle.cjb.net gallery, so a great big thank you to that site.

As for the picture... admit it. You all wish you were that stewardess. ;)
Wonder who they're (pretending to be) on the phone with? You'd want to be that person, though. ;)
Lucky, lucky girl!
As for inanimate objects, how about being a guitar or a drumset? ;)
(Dibs on George's guitar! ;))

Hey, why didn't school have teachers like this? ;) If Paul were, in fact, a teacher, he'd have a lot of students. ;)