Note: This is obviously not meant seriously at all. ;)
Hello and welcome to today's very special page... er, I mean, show - The Fab Cooking Show!

Here to show us how to prepare a delicious, and effectively simple, meal are The Beatles.
It's a meal that can be prepared nearly anywhere, and at any time.
It's a dish that many people have grown quite fond of...
...a delicacy of sorts, that's easy-to-prepare and can be eaten quickly - something which is especially good if you were constantly on the road like The Beatles were.
First, you will need some ingredients and dishes:
1 bowl
1 spoon
Milk
& the most important ingredient - cornflakes.
Simply put the cornflakes into the bowl, add milk and, voila, it's ready to be eaten!
Bon appetite! ;)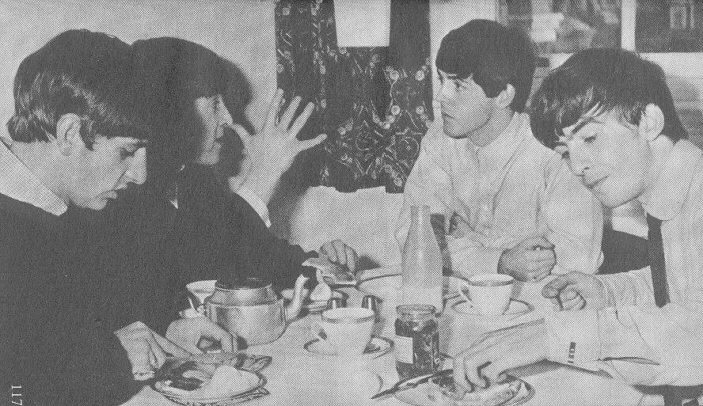 Perhaps you'd prefer a brunch, Beatle-style?
Well, according to the press (that is, the newspaper "MITTAG - Zeitung für Rhein und Ruhr", Düsseldorf, Germany, from June 25, 1966), The Beatles ordered the following through room service at 12:00 p.m. in Munich during their German tour:
- tea with milk
- cornflakes
- for Paul and Ringo, ham and eggs
- for George and John, filet steaks and salads
- six bottles of Coke
- three bottles of whisky
- two bottles of wine
- and thirty-six (!) bottles of Seven Up
Seems a bit odd that this was newsworthy and listed so precisely. ;) And they certainly ordered a lot to drink... wonder if it was all for them?