Many have remarked on Paul's frequent connection to, for example, phones or the numerous pictures of him sans shirt.
Unfortunately, I will not currently be showing you those sorts of pictures... sorry.
However - and this is far more exciting, surely - there are a few noticeable connections between Paul and...
buses.
Yes, you read correctly: buses.
Here's the evidence:
1.) The comment he made in a BBC broadcast, regarding missing "riding on a bus".
2.) He wrote about catching a bus in one of the most famous Beatles songs, "A Day In the Life".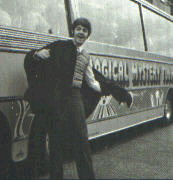 3.) There was no passing up any photo opportunity with a bus, was there?
4.) Come to think of it, who was it that had the idea for "Magical Mystery Tour" - largely revolving around a bus?
5.) Not to mention this quote:
"I used to say to George Harrison, 'God, I'd like to go on a bus again.' George would say, 'Why would you want to do that?' His dad had been a bus driver and I think maybe George could not see the romance of traveling on a bus that I would. I always saw it as sitting upstairs, smoking a pipe like a poet. Sitting on the top of a bus composing things." - Paul
Now that I've bored you (and maybe frightened you!) with this silly and entirely pointless page, I'll be sure to compensate eventually with some more pages I'll be adding!