Well, thankfully, there does seem to be a Beatles song for every occassion, and so I can insert the over-used, but clever, nonetheless ;), "Thinking Of Linking?" in here. ;)
Er... what I mean is, this is the "link the site" section. :)
I would really appreciate it if you'd link this website.
Let me know via e-mail or the guestbook, and your site will be linked back; another option is for you to add your own link in the "Links" section of this site.

If you'd like to be affiliates or have a link exchange with THAT MAGIC FEELING, just drop me a line. :)
Thanks a lot!!!
Various sizes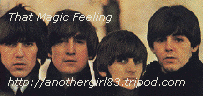 50x50

88x31


100x35


100x50




468x60