Featuring: The Beatles Monthly Book
Every now and then, this site will feature an article from two issues I own.
These articles are © The Beatles Book, Beat Publications, Ltd.
Coming up
Film Talk (from the Aug. 1964 issue)
Behind the Spotlight (from the Aug. 1964 issue)
Behind the Spotlight - Two Years Ago (from the Nov. 1966 issue)
We can't please everyone (from the Nov. 1966 issue)
To start things off, here is Beatle News from August, 1964
No presents among the Beatles
The Beatles made a pact a long time ago never to spend more than a couple of shillings on each other's birthday presents. Paul gave John a Wimpy and a cup of coffee for his 21st!
Brian Epstein, however, has always been very generous with his gifts and his present to Ringo on his 24th birthday on 7th July was a beautiful pair of diamond cuff links. The Beatles spent the afternoon of Ringo's birthday recording a television programme for the BBC and afterwards Ringo went off to celebrate with his parents.
Customs never believe them
The boys always have a little tussle at London Airport with the Customs men when they return from their world tours. No one will believe that they haven't got a very big hoard of presents stored inside their guitars.
Quote from Ringo on their return from Australia: I don't think any of us bought a thing. We were given quite a few presents but they were mostly boomerangs and things like that.
George did buy a new Pentax camera in Hong Kong. Cost him 30 pounds in duty at London Airport!
Drake's Drum
John, George and Ringo aren't sure that Paul bought that racehorse exclusively for his Dad. He's taken a very keen interest in it himself and is trying to be there whenever it races. It was bought in Yorkshire for him and cost 1,200 pounds. It came second in its first race too. Quote from Paul: There you are I told you my dad was the best jockey in the business.
Beatle Cars
George and his E Type Jaguar have been in the news recently. But little is heard about his town Mini. Both he and Brian Epstein decided that big cars were not suitable for the congested streets of London so they got two easy-to-park ones. George's is green by the way. When I last saw him he was talking about the Italian Ferraris with a very bright gleam in his eyes. Trouble is WHERE'S HE GOING TO PARK THEM ALL?
"Paul speaking"
A special series of four Frederick James interview features in which
John, Paul, George and Ringo talk to Beatles Book readers.

© "The Beatles Monthly Book", Beat Publications, Issue No. 13, Aug.
1964.

"Dunno why you picked on me first. You know I'm the Beatle Who Never Stops Talking. At least I know if I've got the next couple of pages to myself nobody is going to start snipping off my sentences so that they don't make sense. That's one thing that sometimes annoys me about the newspapers. Some of them send along chaps who chat you up
for half an hour and then write: "Paul McCartney said he was glad to
be back in Ringopool at the Roxy theatre" or whatever it might be.
Still, I'm not being very serious about the papers really. They've
been pretty great to all of us over the last eighteen months haven't
they? We get gagging sometimes when we're reading the reports. "Ooh!" George will say pointing out a paragraph, "look what I'm supposed to have said yesterday afternoon!" Of course it turns out that somebody got all confused along the way and quoted George as saying something John said.
OUR SCRAPBOOKS
We all keep dirty great scrapbooks to hold all our press cuttings.
Then about the middle of the next century our children will be able
to tell our children's children, "Look Paul" (they'll call them that
just for old time's sake) "look at the stupid things your grandfather
did in 1964 when he was only little. Now let that be a lesson to
you." And they'll pluck little tin guitars away from their kids and
send them to bed with a picture book called "I Was A Teenage Grandson Of A Rolling Stone" or something like that.
Talking of press cuttings. We were, or at least I was before I
started rambling off looking at one of our very earliest clippings
from a pop magazine last night. It said we'd just sold enough copies
of "Love Me Do" to get into the charts. Then it went on to say all
the things each of us liked and disliked. You know the sort of thing
"Paul McCartney, birthday 18th June, 1942, sings and plays bass
guitar. Likes Kraft Cheese Slices, steak, chips, television, cars and
Natalie Wood. Dislikes shaving." Funny really because we found most
of the facts were still true.
SAME LIKES
No, our tastes haven't changed all that much since October 1962.
We've added a lot of new experiences to our list of adventures and
we've found plenty of exciting new things to do because of the way
our careers have turned out but, that doesn't makes us, basically,
different people.
Personally I'm even more thrilled each time I see a new Beatles
record go up in the charts. You might think that's soft. You might
say, "They must have got used to all that top-of-the-hit-parade stuff
by now." But we haven't. Quite the opposite. I suppose if we'd had a
long spell of flops before doing anything special we'd just
think, "Oh, well. You can't be lucky every times. P'raps we'll have
another big hit next year." As it is we know we've been lucky right
from the start and when we DO make a disc which isn't a top hit
everybody will yell, "Look, look. Those Beatles are no good any more.
Ha Ha Ha!"
Apart from that I still get a really fabulous feeling just looking at
the pop papers and seeing our group's name at the top of the weeks
charts. When "A Hard Day's Night" went straight to up to Number One
last month and the soundtrack LP album came into the singles chart
the same week I jumped around and whooped with delight for at least
ten minutes. Then Ringo calmed me down by putting a lump of sugar in
my mouth, patting me on the head and muttering, "We shouldn't have
let him sit out in the sun this morning. His nose is warm. That's a
bad sign in elephants too."
TIME TROUBLE
Time time times. That's the big thing I'm always short of.
If I could have three wishes granted (you know if one of those
characters with wands from Christmas pantomimes suddenly came up
through a trap-door at one of our concerts) the first and main one
would be to make every day into a week instead of just 24 hours.
Then I'd have a day lounging on the beach in some baking-hot
little bay. That's how I'd start my week-day because I'm lazy. If it
was winter I'd still do the lounging but it would be halfway between
a log-fire and a television set! On the second day I'd read. An hour
or two of fan mail, the rest of the morning on music magazines, the
afternoon on of the many gear novels I manage to begin on trains and
never have time to get past Chapter One, the evening on another stack
of letters from Beatle People. I'd spend the whole of the third day
answering yesterday's mail and (if my fingers weren't too worn out)
I'd spend the fourth day rehearsing some new numbers with John and
then playing them with the rest of the boys. On the fifth day I'd go
to a recording studio. Either to make some new tapes with the group
or to look in on somebody else's session. I'd spend the sixth day
with friends or at home with my father. And the last twenty-four
hours of my long, long day? Suppose I'd have to spend some of that in
bed asleep. But I'd find some time for a couple of concerts, a drive
in the country, a huge meal in some restaurant which knew how to
treat a good steak, a spot more songwriting with John and hey!
Things begin to get just as hectic again when you've got a 168-hour
day don't they!!! Time and tide wait for no man but at least you can
move your deck-chair further up the shore. No, that's NOT the title
of our next film. At least I don't THINK it will be!
Whoever is next in this series will probably get out of his
packing for America and make his BEATLESPEAKING piece the excuse.
Which means I'll spend half of August sitting on people's trunks
trying to fasten them down. No, luv, I don't mean elephants' trunks.
We stopped making elephant jokes months ago in case Ringo got
embarrassed about his nose. Ouch! Hey" Ringo! Geeerrrooofff!"
© The Beatles Book, Beat Publications Ltd.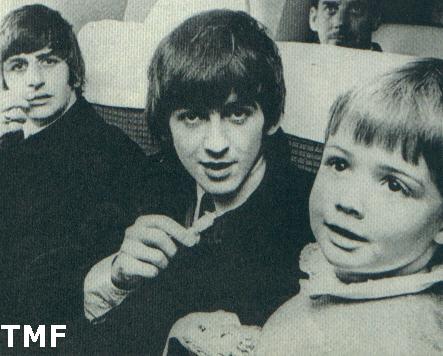 A five-year-old girl turned down an offer thousands of girls would give their whole collection of Beatles records for. She was asked by George Harrison "going to give me a kiss?" Replied Australian born Kaye Peebles steadfastly "no".
"By George, A Beatle Is In India!"
By SHODHAN BATT
In search of a "working holiday", George Harrison and his wife Patti
flew to India having traveled incognito from London by a
BOAC 'plane.

© "The Beatles Monthly Book", Beat Publications, Issue No. 40, Nov.
1966.

The news that a Beatle was in town trickled through to the teenagers,
who clustered in bunches of tens and twenties outside the suave,
seafront Taj Mahal Hotel, trying to get a glimpse of their idol, and
who provided the clue to a newspaper, who broke the thick wall of
secrecy surrounding George with a front-page headline "By George, A
Beatle is in Town". It appeared about five days after George and
Patti's arrival.
Since the cat (or rather the Beatle) was out of the bag,
teenagers in large numbers screamed outside the hotel and at times
ran through its corridors shouting "We want George". Hence, a request
for peace and solitude had turned into a nightmare, so George decided
it would be better to retreat to the more peaceful and undisturbed
atmosphere of the Ajanta and Ellora caves (which are well-known for
their matchless frescoes) and the Taj Mahal at Agra.
As you know, some time ago George expressed a desire that he
would like to visit India to learn something of its culture and
philosophy and, of course, its music. The last he has set about in
a big way.
SITAR LESSONS
A few months ago, George had the privilege of hearing and
meeting India's great sitar player, Ravi Shankar, at a London
performance. He was so enamoured by the instrument and the deftness
of the man who played it, that he felt he had to learn it.
George set to work on mastering the sitar straight away. In
London he took a few lessons from Ravi Shankar, and now recently in
Bombay, at Ravi Shankar's home, George spent seven hours a day
improving his sitar playing.
Ravi Shankar was so impressed with George's receptivity that
he remarked: "George is a wonderful student, and it will not be long
before he masters the sitar." The lessons will continue for some
months, maybe years, under a pupil of Ravi Shankar's in London Mr.
Shambudas.
At a press conference George gave in India, he said: "The
urge to be something more than a mere Beatle provoked me to come to
India. By learning to play the sitar, O can give Beatle fans a little
more."
He also added, that he was deeply interested in Yoga, Indian
philosophy and culture which he was keen on learning. And, as well
as sitar lessons, he has also been taking Yoga lessons.
"I find", said George, "the philosophy and culture of the
East natural and real, unlike Western philosophy, which at a certain
stage reached a dead end. I think the Westerners who say the East is
a mystery are a narrow-minded lot, not ready to accept its greatness."
George has his own philosophy on life: "Life is a game which
one should play the best he can."
One reporter asked George whether he would be a Beatle
forever, to which he replied, "I do not even think about next week."
Apart from the fact that George likes India as much as the
Indians like him, it'll be very interesting to see how George
succeeds on bridging the East-West gap."
RESULT OF REVOLVER POLL
Here, there and everywhere 3134
Eleanor Rigby 2979
For No One 1981
Im Only Sleeping 1963
Got To Get You Into My Life 1342
Good Day Sunshine 974
And Your Bird Can Sing 594
Yellow Submarine 533
Tomorrow Never Knows 486
Love You To 479
Taxman 222
I Want To Tell You 174
Dr. Robert 171
She Said, She Said 166
© The Beatles Monthly, No. 40, Nov. 1966 Beat Publications Ltd.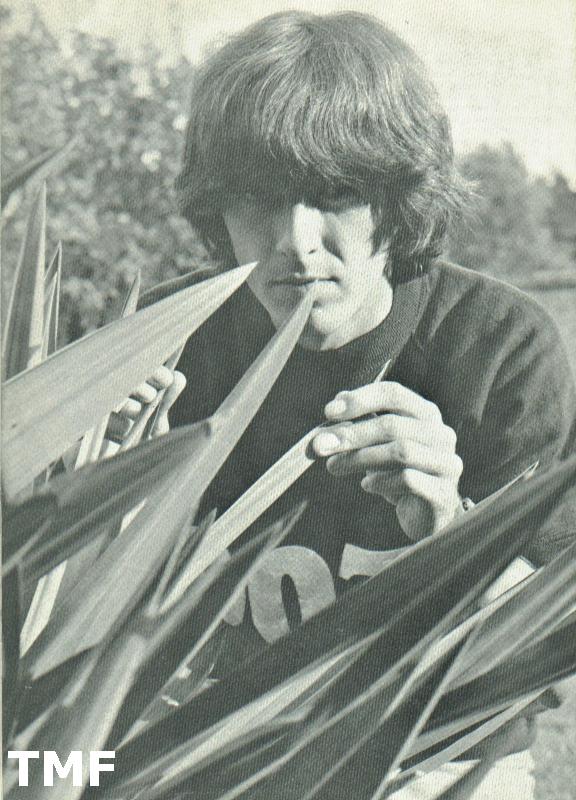 SHE CAME IN THROUGH THE BATHROOM WINDOW
Like the song says, there's nothing a Fab Four fan wouldn't do to
grab a Beatles keepsake, and some of the trophies were really
personal from toast to toilet paper as LOUISE OSWALD discovered

"...Susan was particular about her memorabilia. Only the most obscure
and personal trivia would do Paul McCartney's cigarette butts,
threads from George's jeans or fluff from under his bed Now a 48-
year-old mother of two, Susan explains: "You have to put yourself in
the mind of a 15.year-old girl. We were very protective of The
Beatles But when Please Please Me was released, they were catapulted
to stardom. So I concentrated on collecting parts of their everyday
life that would only mean something to me, things so minor that they
would never miss them. I couldn't believe it when Christie's said my
scrapbooks could make me a lot of money. How could anyone else
possibly appreciate that I'd been on my hands and knees combing the
carpet under in George's bedroom while his mum washed up downstairs?"
For Susan, Beatlemania set in when she took a job in the office of a
Liverpool department store in 1962. A colleague asked her to Cavern
Club one lunchtime to watch a new local band.
Susan recalls: "We walked into the club almost gagging on the smell
of disinfectant from the toilets. My friend said the guitarist was a
friend from art college and would I like to meet him. So I was
introduced. `This is John Lennon,' she said. He shook my hand and it
was like a bolt of lightning down to my toes. He was truly awesome
even though he was just a local musician at the time. I heard them
play A Shot Of Rhythm And Blues. It's still my favourite. I wafted
out of there and thought `That's it. I'm gonna follow those boys'. I
was smitten."
Susan became a regular at the lunchtime gigs and joined forces with a
group of other girls to call themselves the Cement Mixers. "The name
didn't mean anything but the boys would know it was us if we made a
song request during their set. George used to sing Three Cool Cats so
I bought a china cat and sent it up to the stage as The Cement Mixer.
George sang the tune for me and I thought `He's so nice.' An ex-
neighbour of his told me he was very caring towards his mum but I
thought she must be a really lonely old lady." So, armed with flowers
and some chocolates, Susan dropped by for a visit.
"George's parents, Louise and Harry, turned out to be a very lively
couple who taught ballroom dancing," said Susan.
"Mrs Harrison opened the door and said `Ooh, you're a Beatles fan.
Come in,' and she called upstairs to George's dad, `Harold! There's a
fan of our George's here.' There was no slamming the door in your
face.
"Once, Louise let me sit in the front of George's Ford Anglia. I
asked if I could wash the car. `Are you soft?' she shrieked. `Well, I
suppose so, if you really want to. You can come back on Sunday and do
it.'
"During that week I had a letter from George who was touring in
Germany. I tore it open to find he'd written tongue-in-cheek
instructions on how to wash his car you know, use plenty of soapy
water and then dump the dirty water over Paul's shiny Ford Classic."
For the next two years, Susan divided her time between work, the
Cavern and the Harrison household.
She says: "I'd ask if I could go to the loo and Louise would
say, `Oh, I know you. You'll be stealing the toilet paper next.' And
of course I was! I've still got a few leaves of lilac roll in a book
somewhere. George's mum would even let me rummage around in his room
when he was away. I can't imagine what he would have said if he'd
found out. I figured his jeans might have been taken in as it was the
fashion. So I snipped threads from the inside leg. Strangely enough,
I never saw George in his own home. I had a crush on him, of course,
but I was 15 and he was 19 and back then you'd never dream a boy of
that age would look twice at someone like me. George's mum worked
flat out trying to answer all his fan mail and I helped her type the
letters. On his 21st birthday their living room was crammed with Post
Office bags.
"But we were real friends, as well. I got tickets to see The Beatles
in Manchester and asked if she wanted to come.
"We went on the train and she had this huge pile of sandwiches. I
said we'd never eat them all. `Oh, they're for the boys,' she
announced. `They never get out once they're on playing.' It was then
that I thought, `Oh my god, don't tell me we're going backstage.' And
there they were, in the dressing room eating jelly babies. Perfect
for my book, I thought."
Susan also admits to ransacking one of the band's tour vans.
"It was unlocked and the next thing we knew, we were helping
ourselves.
"We took some pink shirts they wore but had to return them the next
night because they still had solid gold cufflinks in the sleeves. But
George let me keep one of his T-shirts. I chopped it up and handed it
out to some other fans and saved a corner for my scrapbook."
The dozen scrapbooks were safely stored until Susan, her husband
Gordon, and their two children moved to Perthshire in 1992.
"We moved into a cottage that needed a lot of spending on it so I
thought I'd see if I could get anything for George's letter. I sent
Christie's a photocopy. They told me I'd get at least 800 pounds and
begged me for anything else they could sell.
"When I mentioned the scrapbooks, I knew I was on a winner. I went to
the auction and I had such a lump in my throat when a Spanish man
paid 1,300 pounds for nine of them.
"I've still got a letter from George's dad and, of course, the toilet
paper. To be honest, it doesn't matter that the books are gone. I
remember every scrap as though it were yesterday"
Another Fab Four fanatic was sales executive Sue Pringle.
Paul McCartney was the particular Beatle of her dreams but being too
polite cost her the ultimate souvenir the first guitar Paul ever
played!
Now 41, and a mother of two, Sue explains: "Every night on my way
home from junior school my best friend Christine and I would call at
Paul's home at 21 Forthlin Road in Garston, a Liverpool suburb.
"Paul's dad would usher us into the parlour and give us lemonade and
biscuits. Then we'd sit there in awe while he proudly told us stuff
like, `Our Paul's in Germany our Paul's in the studio our Paul's in
London.'
"He used to let me hold Paul's acoustic guitar that always rested
against the wall and once, when I was strumming it, he said, `Go on,
you're such a big fan, why not take the guitar. Paul's got a new one
and doesn't play it any more.'
"But I'd been brought up to be polite and decline such gifts so I
found myself saying, `No, thank you very much' even though I knew it
was the very guitar Paul used when he wrote all the early Beatles
songs.
"Now, of course, I realize I must have been mad - that guitar would
have been worth a fortune."

(From YEAH! magazine, November 19, 1995)
* * * *
On 2 February 1963, the first article about The Beatles appeared in a London newspaper - The Evening Standard. It was written by Maureen Cleave: