In Astrid, Klaus and Jürgen, the Beatles found life-long friends...
A look at these three influential Germans.
----
Astrid
Given name: Astrid Sophie Luise Kirchherr
Born: 20 May, 1938 in Hamburg/Germany
Occupation: Photographer
Noteable:
Took those famous black and white images of the young Beatles, including the half-shadowed poctures copied by photographer Robert Freeman for the "With the Beatles" album cover upon request of the band.
She was also the one to photograph the band in November 1960 at Heiligengeistfeld, Hamburg - the now-iconic images of the leather clad up-and-coming Beatles.
In 1968, she also took the photograph of George used on the "Wonderwall Music" album.
Engaged to Stuart Sutcliffe.
The band often came to her family home for meals, showers and conversations during their Hamburg visits.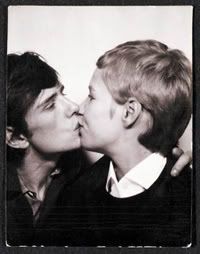 Stu & Astrid © Liverpool Museums
---
Klaus
Given name: Klaus Voormann
Born: 29 April, 1938 in Berlin/Germany
Occupation: Artist, musician
Noteable:
Was the first of the three friends to see and hear the Beatles live - at the Kaiserkeller in October 1960.
Designed the "Revolver" album cover and won a Grammy for it in 1966.
Also co-designed the "Anthology" covers together with Alfons Kiefer.
Played in various bands and with various musicians, including the Plastic Ono Supergroup, on George's "All Things Must Pass" album, the Concert for Bangladesh and the Concert for George.
---
Jürgen
Given name: Jürgen Vollmer
Occupation: Photographer
Noteable:
Took those performance photos and the solo photos of George in Hamburg... and the one John ended up using as the cover for his "Rock'n'Roll" album in 1975.
Cut Paul and John's hair into an early Beatle haircut version when they visited him in Paris in 1961.
"Jürgen Vollmer was the first photographer to capture the beauty and spirit of the Beatles (though I say it myself). We tried very hard to find someone with his touch after we returned from Hamburg, Germany... Nobody could. He loved rockers and rock'n'roll..." - John