Maybe I'm not the only person who thinks that The Beatles had a lot to say... Some things were hilarious, others strange, some thought-provoking and others sad.
Which is why That Magic Feeling proudly presents...
The Quotable Hall of Fame!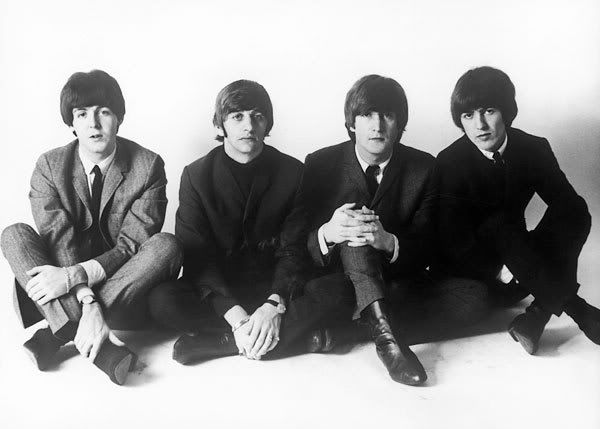 ----
"Sometimes you wonder, I mean really wonder. I know we make our own reality and we always have a choice, but how much is pre-ordained? Is there always a fork in the road and are there two pre-ordained paths that are equally pre-ordained? There could be hundreds where one could go this way or that way - there's a choice and it's very strange sometimes."
- John
--
Our real image is nothing like our image.
- Paul
--
It's great, it sold, it's the bloody Beatles "White Album", shut up!
- Paul
--
I'd rather be a musician than a rock star.
- George
--
The world is a very serious and, at times, very sad place - but at other times it is all such a joke.
- George
--
The moral of the story is that if you accept the high points you're going to have to go through the lows...
- George
--
...[to] be more helpful. We could have been some bigger [more helpful] force, It's an observation, not a regret - regrets are useless.
- Ringo
--
The basic Beatles message was love.
- Ringo
--
It was like the wind-down to a divorce. A divorce usually doesn't just happen suddenly; there are months and years of misery...
- Ringo (on the break-up of the band)
--
The music wasn't being heard. It was just a sort of freak show. The Beatles were the show, and the music had nothing to do with it.
- John
--
...[a]ll those people who play records backwards and get something rude should play it the right way and it probably says something really nice.
- Ringo
--
But no, for the fiftieth tme, I am not dead...
- Paul
--
We're not learning to be architects, or painters, or writers. We're learning to be. That's all.
- Paul
--
Everybody who comes out of Liverpool thinks they're a comedian.
- George
--
Make your own dream. That's the Beatles' story, isn't it? I can't cure you. You can cure you.
- John
--
It's going to be such an incredible, comical thing, in 50 years' time... for people to say, "They broke up 'cos Yoko sat on an amp."
- Paul
--
"I got married in 1966 and Paul was my best man. He cancelled his holiday to do it. Then he got drunk and put a bow-and-arrow through the car window. But until then it was great." - George Harrison
--
(On a postcard sent to Ringo... see the wonderful book Postcards From the Boys for more)
From John & Yogurt
--
I always felt that life was to go through and grow and make opportunities, make things happen.
- George
--
I'll keep it to dust when I'm old.
- Ringo on his MBE in 1965
--
I've had caviar and I like it. But I'd still rather have an egg sandwich.
- George, London Evening Standard interview
--
Paul was good at waving and signing autographs. We'd be waiting in the car: 'Come on, Paul, let's go. Where is he? Oh bugger, there he is.' - 'Oh yes, what's your name? Betty. To Betty, love Paul.' - 'Come on and get in the fucking car. Let's get out of here!' - George
--
I'm just the conservative of the four of us. Not compared with outside people. Compared to my family I'm a freak-out.
- Paul
--
...I remember John once loved these little biscuits called Jaffa Cakes. He totally OD'ed on them. So much so that he could never look at another one in his life...
- Paul
--
Among the many endearing qualities and also, in some cases, imperfections of the Beatles was their honesty. With all the truly stupid and redundant questions they were asked by the press, it's always fun to read their numerous replies. Also, sometimes their comments on whatever subject mentioned were hilariously true...
Here are some instances in which John, Paul, George and Ringo told it like it was.
----
Q: How do you like this welcome?
Ringo: So this is America. They all seem out of their minds.
----
Q: Can we look forward to any more Beatle movies?
John: Well, there'll be many more, but I don't know whether you can look forward to them or not.
----
Rap music is just computerized crap. I listen to 'Top of the Pops' and after three songs I feel like killing someone.
- George
----
"You will all be dead is my prediction." - George Harrison, Predictions for the Next Millenium: Thoughts on the 1,000 Years Ahead from Today's Celebrities by David Kristof & Todd Nickerson
----
If everybody who had a gun just shot themselves, there wouldn't be a problem.
- George
----
...Instead of penting up emotion or pain, feel it - rather than putting it away for a rainy day. Why shouldn't we cry? They tell us to stop crying about twelve: 'Be a man.' What the hell's that? Men hurt.
- John
----
Q: Ringo, why do you get the most fanmail?
Ringo: I don't know. Perhaps it's because more people write to me.
----
Q: Is the pope due to fly in?
John: No, he has to use a plane these days like everybody else.
----
...There's about fifty-four wars happening right now, and even if there's a lull in one of the fifty-four wars they'll show is the re-runs of the Second World War or Pearl Harbor....
- George
----
Just like a real rock'n'roll band making a record. We had real saxes and real guitars, real pianos, real drums, real people playing real songs.
- George, about the album 'Cloud Nine'
----
Make your own dream. That's the Beatles' story, isn't it? I can't cure you. You can cure you.
- John
----
I never wanted The Beatles to be has-beens. I wanted to kill the band while it was on top.
- John
----
You could make a film, just showing how idiotic everyone else was whenever the Beatles came to town.
- George
----
It's going to be such an incredible, comical thing in 50 years' time... for people to say, "They broke up 'cos Yoko sat on an amp."
- Paul
----
I should have said television is more popular than Jesus; then I might have got away with it.
- John
----
...Up until then pop groups had been milk and honey with the press: "No, I don't smoke", that kind of thing. And here we were, smoking and drinking and shouting at them. That's what endeared us to them.
- Ringo
----
In Liverpool, when Paul came with us to look at all these guitars, he turned the amp up too high and broke them all. And my mother paid the fee for him. Paul was my mother's favorite Beatle! I was probably her second or third favorite." - George
* * *
Sometimes, you'll come across a quote, read it, and think, "Well, that ended up being a little off..." - the same thing applies to a number of Beatle-related quotes.

Of course, it's simple to chuckle about these in hindsight - but how were these people, back when they said these things, to know?

So keep in mind while you read these that this is all merely a tongue-in-cheek look at some things that were said... not an admonishment of the people and subject matter!
And now, onto the quotes....
The infamous quote by Aunt Mimi:
"The guitar's alright for a hobby, John, but you'll never earn a living out of it."
Well, as we all know, he did, in fact, make some money with it. ;) But I'm sure Mimi merely wanted what was best for John.
***
Oh, Decca, Decca, Decca… did they regret turning The Beatles down?
"Guitar groups are on the way out."
Hmmmm. Actually, they were not.
***
"It [Beatlemania] won't do anything over here [in America]", wrote The New York Times pre-February 1964.
Famous last words.
***
The German press judged this inaccurately as well...
"...When The Beatles are over and forgotten (and that will surely happen soon), psychologists will still be pondering this Beatle hysteria..." - from "7 Tage", Speyer, Germany, July 4, 1964.
Okay, maybe psychologists are still trying to figure Beatlemania out but, The Beatles, forgotten? Over 40 years on, it's suffice to say that this isn't the case.
***
John, at a press conference, once said:
"We'd never start our own label, it's too much trouble."
One word: Apple. So, he was wrong about never starting their own label, but not too far off the mark with the "too much trouble" bit. ;)