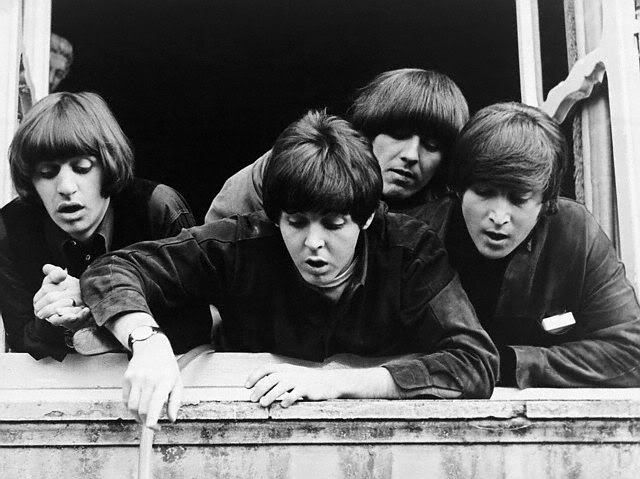 What with having to endure the same, often pointless, questions over and over and over during press conferences, The Beatles came up with humorous quips and silly answers... and showed us how to deal with stupid questions.
Thus, here's a selection of some of those press conference tidbits!
---
Q: What have you seen that you like best about our country?
John: You
--
Q: Hi, you're not married.
George: No, I'm George.
--
Q: What do you do when you're cooped up in a hotel room between shows?
George: We ice skate.
--
Q: You and the snow came to Washington at the same time today. Which do you think will have the greater impact?
Ringo: The snow. We're going tomorrow.
--
Q: Do you think it's wrong to set such a bad example to teenagers, smoking the way you do?
Ringo: It's better than being alcoholics.
--
Q: Why do you think you get more fan mail than anyone else in the group?
Ringo: I dunno. I suppose it's because more people write me.
--
Q: Do you resent fans ripping up your sheets for souvenirs?
Ringo: No I don't mind. So long as I'm not in them while the ripping is going on.
--
Q: Why don't you smile, George?
George: I'll hurt my lips.
--
Q: The French have not made up their minds about The Beatles. What do you think of them?
John: Oh, we like The Beatles. They're gear.
--
Q: Paul, you look like my son.
Paul: You don't look a bit like my mother.
--
Q: Why aren't you wearing a hat?
George: Why aren't you wearing a tie?
--
Q: Do you speak French?
Paul: Non.
--
Q: What will you do when the bubble bursts?
George: Take up ice hockey.
--
Q: What excuse do you hae for your collar-length hair?
John: Well, it just grows out yer head.
--
Q: Do you ever think of getting a haircut?
George: No, luv, do you?
--
Q: What do you expect to find here in Australia?
John: Australians, I should think.
--
Q: There's so much noise at your shows, are you miming your songs?
John: Wouldn't that be cheating?
--
Q: George, what caused you to throw a Scotch-and-Coke at a reporter in Los Angeles?
George: He was a very nasty young man.
John: Old man.
George: He'd been told to leave anyway, you see. He insisted on jumping around trying to take pictures and we couldn't see with somebody flashing us in front. So I thought I'd baptize him.
--
Q: What do you plan to do after the breakup of The Beatles?
Paul: No one's made any plans, but John and I will probably carry on songwriting and George will go into basketball.
George: Or roller skating. I haven't really decided yet.
--
Q: Ringo, in California the girls at some grass you walked on. How do you feel about that?
Ringo: I just hope they don't get indigestion.
--
Q: I want to get married and I want to do it right.
Ringo: You want to do it right?
Q: How do I do it?
John: Use both hands.
--
Q: Is the Pope due to fly in?
John: No, he has to use a plane these days like everybody else.
--
Quick-witted Fabs at their best!