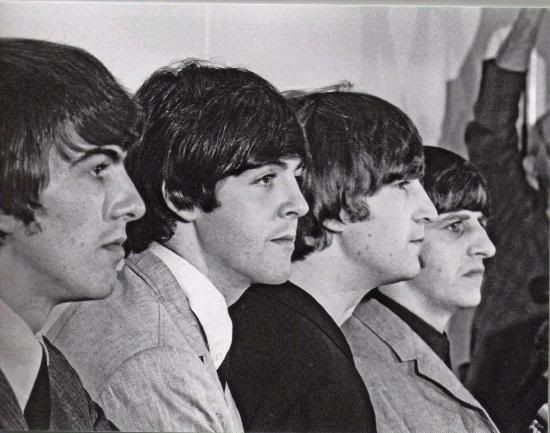 The Beatles were more than "just" a band to their fans back in the Sixties - and they're still more to the newer generations of fans these days.

But what put them (so far) above others? What makes them so special that their fans love them so much... at least in one fan's opinion?

Yes, this list could go on and on and on... but here's an attempt at keeping it short... somewhat, at least:
190 (and counting) Things To Love About The Beatles!
01. Their music is timeless.
02. The opening scene of "A Hard Day's Night", which completely sets the pace for the movie.
03. The simplicity and brilliance of the opening to "Day Tripper."
04. The Shea Stadium 1965 footage, which still has a thrill and excitement to it after all these years.
05. The silly comedic take of "A Midsummer Night's Dream" during the 1964 "Around the Beatles" TV special. Fun to watch and once more proof of the fact that the Beatles were willing to take everything with humor.
06. Maybe they did invent MTV? After all, they were pretty much the first band to make promo videos – and these are by turns silly and excellent.
07. The footage to the tune of "In My Life" which opens the Anthology documentary.
08. The absolute perfect opening to their debut album: "one, two, three, fawr!"
09. The sitar on "Norwegian Wood (This Bird Has Flown)" is brilliant.
10. At the risk of being all too girly, those suits were just made for them.
11. As if the music alone didn't suffice, they were also hilariously funny.
12. Their times in Hamburg, the life-long friends they made their and how it prepared them for the fame ahead.
13. "With The Beatles" signalling a change in album covers, from happy-go-lucky pictures to making the cover a work of art in itself.
14. The guitar feedback on "I Feel Fine."
15. The three-part harmonies on songs such as "Because" are gorgeous.
16. Admittedly, we could listen to them talk for hours, because those accents are so great.
17. The great quips and one-liners at press conferences, in response to an endless stream of the same old insane questions.
18. No album is exactly like the one before, they always developed on.
19. John's humor.
20. In connection with that, John's "Coke sniffing" scene in "A Hard Day's Night."
21. Their performance of "I'm Down" at Shea Stadium on 15 August 1965, complete with laughing and goofing around.
22. They may have made music that's in a league of its own, but they're normal people, too.
23. All of the film "A Hard Day's Night", because it's a classic... and even Ebert loves it.
24. The various Beatle couples over the years.
25. The "tea break" scene in "Help!" It's very funny and seeing as they spent ages filming it due to fits of laughter, it's even sillier.
26. George's dance routine during the closing concert of "A Hard Day's Night", because no one else could pull that off. ;)
27. The "it's a thingy! A fiendish thingy!" bit in "Help!"
28. George's shirt scene in "A Hard Day's Night."
29. Arguably, Paul is one of the best bass players ever.
30. George is, in my opinion, the best guitarist ever.
31. Ringo's comments in the "Anthology", for being funny and touching all at once.
32. "The Beatles Anthology" is a gripping documentary which never gets boring.
33. The B side of "Abbey Road."
34. They never cease to amaze, not least of all with their music. It's truly amazing just how talented those four people were and are.
35. The chemistry between the four of them. When Ringo joined in 1962, they were probably destined to take off, because it just... fit.
36. It's more than just the music, they give you so much in terms of other interests, such as the Sixties, India, psychedelia, fashion, just to name a few.
37. Even though they achieved so much together as a band, they still managed to write some wonderful music in their solo years.
38. They must be pretty good for people to willingly read a book the size of "The Beatles Anthology." ;)
39. For an instant here, it's time to be shallow and say that they weren't bad on the eyes either, were they? ;)
40. Their body of work is astounding. In a mere few years, they recorded albums so timeless that they reel in new generations of fans constantly.
41. Who could forget the variety of styles in their music?
42. Every single song on every single Beatles album.
43. There's no denying the greatness of the Lennon/McCartney song writing team.
44. Likewise, though, there is no need to overlook the equally great Harrison song writing.
45. And let us not forget Ringo's song writing.
46. Those Bahamas scenes in "Help!"
47. It's been said that loving the Beatles is more than just being a fan, it's a way of life. That's probably correct. ;)
48. Not only are the Beatles interesting and intriguing people, but think of all the people associated with them that are also interesting, e.g. Stu, George Martin, their wives and girlfriends...
49. They never cease to entertain.
50. The wonderful friendship shared by the four of them. Like Ringo once said, the other three were the only ones who would look at him as Ringo, not Beatle Ringo, and that bound them for life.
51. The White and Whiter Album concept. ;)
52. The way they were formed and all the setbacks on the way to becoming as famous as they did.
53. The fact that they did not give up before finally getting a record contract.
54. They broke up when it was inevitable and left fans with stellar music and wonderful memories... not a bad legacy.
55. Stories which show the people behind the myth, such as in Klaus Voormann's book.
56. The band's incredible influence on modern culture.
57. They didn't conform to set rules when it came to their music and the outcome was all the better for it.
58. Just think, all it took for their live performances was four people, a few instruments and some amplification to create an incredible sound... even if it was drowned out by Beatlemania.
59. The fact that a roughly twenty-four year old George wrote lyrics like "Within You Without You."
60. They achieved and reached so much at such a young age, yet didn't seem to loose touch with reality.
61. The fact that they all gave and give to charities and good causes, and care about the world around them, probably more so than the public is aware of.
62. They had and have wonderful families. :)
63. For still being able to rock and roll after the age of 64. ;)
64. They're still being talked about after over forty years.
65. They're so great that it's hard to define exactly why!
66. The rock'n'roll attitude of the "Revolution" promo video.
67. Their music still sounds fresh today.
68. The quality of the band's output never waned.
69. Their ability to always keep humor in everything.
70. That bit in the Anthology special features when Ringo tells George and Paul that he likes hanging out with them is so sweet.
71. George's striped pants, of mad Day Out fame. ;)
72. They had style. And non-style.
73. Just look at those baby and childhood photos – adorable.
74. The leather days. Need I say more?
75. All the great pictures in the Anthology book.
76. John's hats.
77. They way they held their cigarettes. No, it's not healthy, and I do not endorse it, but... they made it look so good.
78. What Klaus Voormann refers to as "Georgie-German", that is, George's cute way of speaking German and pronouncing German words. ;)
79. "Well, I don't like your tie for a start" – way to break the ice, George. ;)
80. Their smiles. :)
81. The home footage in the Anthology, to the tune of "It Won't Be Long."
82. The four very different personalities and how well they worked together.
83. The breathing on "Girl."
84. The naughty backing vocals on "Girl." ;)
85. Paul's head-bobbing when he performs "She's A Woman."
86. How George looked so serious and deep in thought when playing the guitar, but at the same time, made it look so simple.
87. "I think the idea of the boat is completely insane. It's very expensive and insane." George, the voice of reason and honesty during "Let It Be."
88. Because Derek Taylor was right with his prediction that "[t]he kids of AD 2000 will understand what it was all about and draw from the music much the same sense of well-being and warmth as we do today…"
89. Because "[e]ven now, Paul's still nine months older" than George. ;)
90. Sometimes they were just so wonderfully silly. ;)
91. Even if the movie "Magical Mystery Tour" makes little sense, it has some great music sequences and moments which compensate for the, well, lack of sense. ;)
92. The extras on "The First U.S. Visit", because they seemed so exuberant and excited.
93. Those silly Christmas messages for the fan club Christmas records. Too bad we won't ever get to hear the uncensored versions. ;)
94. The Beatles in any color turtlenecks... inexplicably attractive.
95. Their cover version of "Roll Over Beethoven".
96. In fact, all their cover versions!
97. The studio bloopers.
98. The train sequence in "A Hard Day's Night."
99. Even non-fans can appreciate the quality of songs such as "If I Fell", "Let It Be", "Something"...
100. Little bits of songs, such as "come on"'s, "oooo"'s, backing vocals, which add a certain special factor.
101. The greatness of some lesser-acknowledged songs, such as "For You Blue," "I Don't Want To Spoil the Party" etc.
102. Their pronunciation of words such as "girl", "care", "car", "lovely" etc.
103. Ringo's explanation of how not to manoeuvre a speed boat in Anthology 3. ;)
104. George informing a reporter in "A Hard Day's Night" that he calls his hairstyle "Arthur"... and, in 1995, telling TV Guide that his hairstyle's current name was "Cyril." ;)
105. How "Here Comes the Sun" has an eternally optimistic feel to it.
106. Ringo's calls for George or anybody to "rock on". ;)
107. The way John and Paul's voices harmonized perfectly.
108. "Shweeter than wine" – what was that, Paul? ;)
109. The rare footage of the Beatles mugging for the camera in front of London's BBC building in 1963.
110. They were so funny, they could have considered being comedians as a side line.
111. Is there any photo in which they don't look like the epitome of cool?
112. They never cease to be interesting.
113. The Beatles are so loved because they are the greatest. I can't think of any other way to say it. Their music, their personalities, it's all so intriguing you just can't get enough.
114. John and his myopic moments.
115. The faces John pulled.
116. Ringo's head toss when he drums.
117. The band bubble the four of them shared, with inside jokes and slang... creating a solid unit.
118. If their behind the scenes, candid comedy had been filmed, they "would've been classics", acccording to photographer Bob Bonis... they were that hilarious.
119. Those Miami Beach (1964) photos.
120. Their beautiful smiles.
121. The fact that they refused to play for segregated audiences - good for them.
122. How is it possible that they all had/have such gorgeous profiles?
123. George, Paul and Ringo's online antics.
124. Those moments when two or three of them shared a microphone and laughs, smiles and jokes.
125. Paul's apparent love of Ginger Ale.
126. Lennon/McCartney Day, 6 July, marking the anniversary of their first meeting in 1957.
127. Their pre-song announcements during live shows.
128. Martha and the other Beatle pets.
129. John forgetting lyrics.
130. All the little Anthology book anecdotes.
131. George's cranky moments.
132. They're still a cultural phenomenon, decades after their breakup.
133. There are always musical gems to (re)discover in their catalogue.
134. How pale they were. ;)
135. There are still more unreleased musical ventures in the vaults of Abbey Road Studios... oh, to hear those...
136. Their irreverence when dealing with repeatedly idiotic press questions.
137. The now instantly recognizable stage setup... drums, three guitarists at the front.
138. John's Buddy-Holly-esque glasses.
139. The tailored suits and outfits, such as matching materials in shoes and outfits. Stylish!
140. The Beatle kids.
141. The Beatle wives and girlfriends.
142. George's lankiness.
143. Their cool array of sunglasses.
144. Those stylish 1966 outfits.
145. The many, many photos of The Beatles, particularly George, eating. ;)
146. All those beautiful clips to be found on DVD's and online, featuring footage of the band in the sixties.
147. Faults are part of all people, but The Beatles never cease to be, quite simply, amazing.
148. The little inside jokes the band wrote to each other in postcards... see Ringo's Postcards From the Boys.
149. Even their insturments are all pretty much legendary by now.
150. "Ringo Starr, MBE." - "Hahahahahah!"
151. All those cards and letters John sent to Cynthia.
152. The joint vacations they took in the Sixties, e.g. Tenerife, Tahiti etc.
153. How much regard they had for their fans, even amid all the mania and hysteria. How many celebs these days personally reply to fan mail when they can, for instance?
154. The undeniable coolness of the leather days.
155. Their pets.
156. The airplane food and pillow fights while on tour. (See Larry Kane's book "Ticket To Ride" for the U.S. tours.)
157. Nonchalantly holding down e.g. the first six spots on the Australian charts.
158. The friendship between John and Paul.
159. The friendship between John and Ringo.
160. The friendship between John and George.
161. The friendship between George and Paul.
162. The friendship between George and Ringo.
163. Paul's eyebrows.
164. Paul's obsession of sorts with buses. ;)
165. John's laziness.
166. Their thing for cars.
167. George's written tongue-in-cheek instructions on how to wash his car.
168. The nicknames they gave people, e.g. Eppy, Cyn, Nell, Helly etc.
169. The charisma, energy and power of their group appearance.
170. Paul's attachment to that transistor radio during the first U.S. visit.
171. George (not-so) subtly asking Princess Margaret to please leave the movie premiere after-party so that they could start eating.
172. John announcing the song "A Hard Day's Night" at Shea Stadium 1965.
173. Their fan-like behavior toward e.g. Little Richard, Roy Orbison and Bob Dylan.
174. George's cameo in the Rutles movie.
175. The train journey during the first U.S. visit.
176. Those press conferences.
177. Being much like regular tourists during their stay in Miami Beach, February 1964.
178. The ultra-cool TV performance of "All You Need Is Love".
179. The home movie footage of their Channel Islands visit in 1963.
180. Practicing their autographs during the early days.
181. Ringo asking for "vintage Coca Cola" during the first U.S. visit.
182. George visiting Ringo during his 1964 hospital stay.
183. Paul writing "Hey Jude" for Julian after John and Cynthia's break-up.
184. The various appearances on British TV.
185. The July 1964 Liverpool homecoming.
186. Every alternate take of their songs.
187. Those cowboy-style photos taken in the U.S.
188. Their initial excitement at being broadcast on the radio in the U.K.
189. Likewise, their excitement at being on American radio.
190. Their kindness toward fans, e.g. getting autographed pictures delivered to their doorstep when the fan was too ill to see them live (you can read about it in the book "Liddypool" by David Bedford).
191. Ringo giving a young fan drumming lessons through the Make A Wish Foundation not too long ago.
192. Their nervous and humble attitude toward being welcomed back by huge crowds for the Northern premiere of "A Hard Day's Night" in Liverpool, July 1964.
193. Their decision to stop touring amid the madness of Beatlemania and to focus on their studio work instead.
194. The early shows at small venues in Liverpool.
195. Knocking crowds out after their first Hamburg visit.
196. Their teddy boy hairstyles prior to those distinctive Beatle haircuts.
197. Their cover version of "Twist and Shout".
198. George's rebellious way of dressing during his school days at the Liverpool Institute.
199. Their unfading charisma and immense talent.
200. No matter how much I write on this list, I'll always think of hundreds more reasons to add in retrospect, that's how fab the Beatles are. :)