As you know, 2013 marks the year in which George Harrison would turn 70 years of age. And so, twelve years after his passing, fans will be marking this special occasion - by listening to his music and by remembering him.
Again, I attempted to type up a "letter" of sorts... though I do always come back to the line: "What I feel I can't say"... because it's true.
~ * ~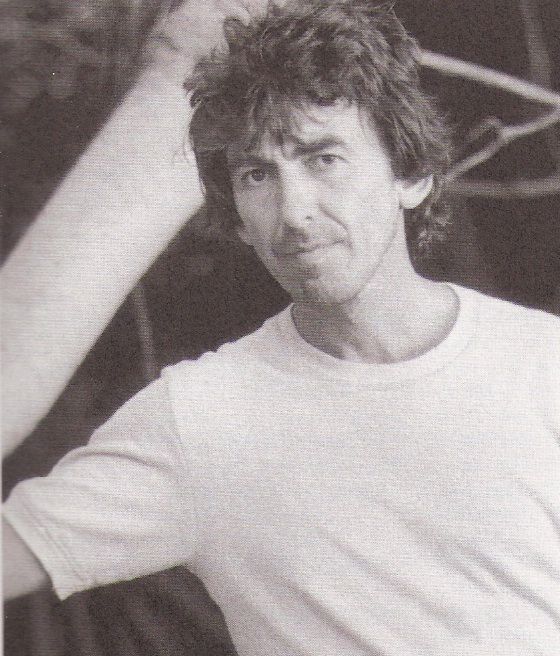 Happy 70th birthday to the uniquely talented, complex and remarkable George Harrison!

Dear George,
70 years ago, you were born, and 70 years later, this is a day to send you love and to celebrate all that made you you. Today, as ever, your music will be playing and brightening the world the way only you could. Olivia said it best: "Nothing I can say about George speaks louder than his music."
George, you are remembered, valued and greatly missed each and every day. But it's true, "life flows on within you and without you" - so even if you are no longer here in the material world, you go on.
Time and time again, I am so thankful for you and your stunning music; so timeless and astonishing. It is your musical legacy and your unique personality that I so admire and cherish, and that will remain, regardless of how many years pass.
Thank you, George, for continuously inspiring and influencing me, for making me smile, for your honest and grounded self, for reminding me what truly matters in life - and thank you for the wonderful, invaluable gift of your music.
There really isn't an adequate way to express all I'd like, no matter how much I may write. No words, nothing, could fully convey what you mean to so many; to your family, your friends, and your fans… to me, though I never even met you. So, before this gets any longer, I will close by saying again that I'll never, ever stop being incredibly grateful for you and your music; for the fact that someone like you was around during at least part of my lifetime. You and your music will forever have an immeasurable influence on me and you will forever be my most significant inspiration. Thank you, George, for everything. I'll always have a space for you in my heart. ♥
Lots of love,
Andrea
© Andrea R. | 2013
* * * *
Over at my Beatles blog That Eventuality it was also George Harrison birthday month, and all the quotes, videos, photo scans and such can be found there via thateventuality.tumblr.com/tagged/George-Harrison-birthday-month
:)
*
Top 70 Favorite Songs chosen by the webmiss
This was incredibly difficult to narrow down, because I really just wanted to select them all - but with what would be George's 70th birthday approaching, here are my 70 favorite songs, in no particular order.
Cover songs
Honorable mention goes to "I Forgot To Remember To Forget" (which I adore).
Between the Devil and the Deep Blue Sea
Chains
Crying, Waiting, Hoping
Got My Mind Set On You
If Not For You
Let It Be Me
A Picture Of You
Roll Over Beethoven
Nothin' Shakin' (But the Leaves On the Trees)
Sheila
The Beatle years
Honorable mention goes to two Lennon/McCartney compositions, "Do You Want To Know A Secret" and "I'm Happy Just To Dance With You".
Blue Jay Way
Don't Bother Me
For You Blue
Here Comes the Sun
I Need You
If I Needed Someone
Long, Long, Long
Love You To
The Inner Light
Old Brown Shoe
Savoy Truffle
all of the "Wonderwall Music" soundtrack
Something
Taxman
While My Guitar Gently Weeps
Within You Without You
You Know What To Do
The solo years
(including The Traveling Wilburys)
All Things Must Pass
Any Road
Behind That Locked Door
Beware of Darkness
Blow Away
Brainwashed
Cheer Down
Cloud 9
Cockamamie Business
Devil's Radio
Flying Hour
Give Me Love (Give Me Peace On Earth)
Handle With Care
Heading For the Light
Horse To the Water
I Live For You
I'd Have You Anytime
If You Believe
Isn't It A Pity
Lay His Head
Life Itself
Looking For My Life
Marwa Blues
My Sweet Lord
Never Get Over You
P2 Vatican Blues (Last Saturday Night)
Pisces Fish
Poor Little Girl
Rising Sun
Rocking Chair in Hawaii
Run Of the Mill
Run So Far
Sat Singing
Soft Touch
Someplace Else
Stuck Inside A Cloud
That's What It Takes
This Is Love
Wah-Wah
What Is Life
When We Was Fab
Wreck of the Hesperus
Your Love Is Forever